2 women from one village, 6 women from three village in one group, selected twice a year and send to the Barefoot College in India to attend the 6 months solar engineering course and come back with the solar home systems for their villages.
Mon
Kyaik Hto and Bago Township.

Villages: Tawall Thaw Khamau Khwei Koka Htoun Taung

Households total: around 231
Ayeyarwaddy Region
Pathein and Yeikyi Township

Villages: Zaya Hsi Kanhin Thone Hsin Nat Pay Shan Su

Households total: around 390
Magwe
Sin Baung We Township

Villages: Nyaung Pin Thar, Kyay Khine Ma

Households total: around 300
Bago
Kyauk Kyie and Than Taung Township

Villages: Sale ၊ Myat Ye Tie Piin ၊ Than Taung Kyie

Households total: around 450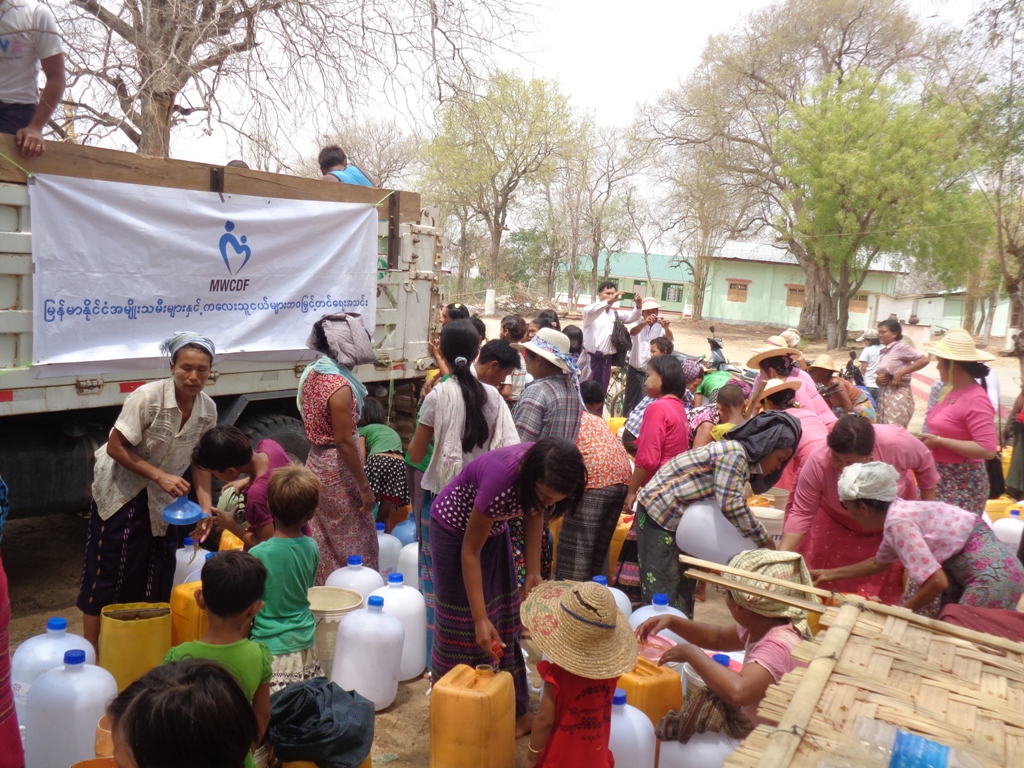 For village water supply, MWCDF contributed drinking water, setting−up new pipelines, building wells and donating water pumps in the following villages.
Mandalay Region
Mahar Myaing Village,Zayar Thukha (East) Village, Padatsarkone Village and Nat Saunt Village in  Taung thar Township, Myingyan Province

Thae Taw Lay Village in Meithila Township .
Naypyitaw
Donating water compressors in Sein Pan Khaing VIllage in Tatkone Township.
Mon state
ThaWawThaw Village in Kyaik Hto Township
Kayah State
Villages in Shartaw Township.
Donation to Flood Victims
 In year 2015,
MWCDF donated emergency aids to people in flood affected regions
Sagaing Region
Yay Lae Oo Ywar and Pauk Khon Villages in Kalay Township.
Chin State
Harkharlay Village and Khaing Kan Village in Tonzan Township
Magway Region
Yayzakyo Township and Pakokku Township
Bago Region
Oo Bo village and Kun Paung village in Taungoo township and Bago township.
Donation to Fire Victims
Donated to people who are affected by fire outbreak in regions.
Ayeyarwady
Bago region
Yangon
Balotenyunt village in Kyi Myaing Taing township 
Donating to victims from landslides.
In 2015, heavy rain caused landslide in Mawchi Mine in Kayah State and MWCDF sent necessary supports to victims in that area.
Lanslides in Mawchi, Kayah state
 Hakhalay village and Twikhaini zan village,Tonzan township, Chin state, 
MWCDF donated to disabled women in MaULayBin village in Naypyitaw .
Providing monthly supports to Ayemyitarsan (center for disabled children) in Hlaing thar yar township, Yangon Region.
School and Library Buildings Donation

Naypyitaw
Sein Pan Khaing Monastic Vilalge in TatKone Township

Yadanar San Pya Monastic School in Ottarathiri Township

Aye Myit Tar San Monastic School in Potebathiri Township

Primary School in Ma U Lay Pin Village.
Mon State
Ywar thit village in Kyaik Hto township
Bago Region
Donating Preschool building in Sat lal village , Kyaukgyi township.
Naypyitaw
women's tailoring business in MaULayBin village,Ottarathiri Township.
Kayin State
In order to breed animals, donating chickens, goats and cows to Internally displaced people in Htawkokan village ,Narkhu township 
Mon State
donating sewing machines for women in Kyaikto Township 
Kayah State
Opening sewing training course in Shartaw village
 Mandalay Region
Donating sewing machines to women in Maharmyaing village in Taungthar township, Myingyin province,